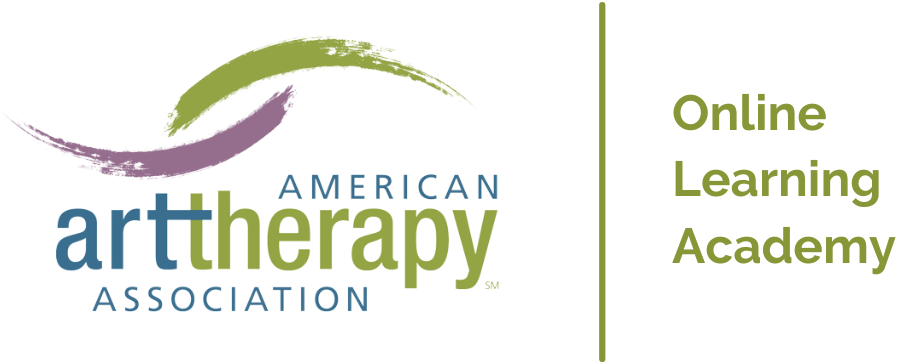 Thank you for attending Our Virtual Conference in 2021!
If you registered for one of our virtual conferences, you can retrieve your continuing education certificates and watch the on-demand content from our virtual events. Please use the Dashboard option to the left to access the sessions for which you have registered or attended live. To see more information regarding the schedule for each day, please scroll down and select the date to view.

The Association does not provide continuing education certificates for presenters and instructors. However, some credential and license bodies, such as the Art Therapy Credentials Board (ATCB), may award credit to presenters. Please check with your credential and/or license body for instructions on how to attain presenter continuing education.
52nd Annual Conference 2021 - Oct. 23,24 and Dec. 18,19

Begin by clicking on the day during which the session took place. If you are unsure what day your session was on, please refer to the conference's program guide
. For each of the sessions that you earn credits for, you will retrieve an individual certificate.
Please make sure that you are logged in before accessing the sessions.
Attended Session Live
Your attendance for any of the live sessions was recorded when you signed into the session during the event.
After clicking on the name of the session that you attended, click on the "Contents" tab to be guided through retrieving your certificate.
You must complete the following component before getting access to your certificate:
If you attended live, you will be able to re-watch the session video but you will not be able earn additional credits for the on-demand version. The on-demand session components (ex. the quiz) will not be accessible.
Watching On-Demand
You can access sessions that you may have missed during the conference on-demand through December 31, 2022. You will only be able to access sessions from conference days you are registered for.
After clicking on the session, begin the course by completing the items under the "contents" tab.
You must complete the following components before getting access to your certificate:
Webinar
Quiz
Quality Assessment
Annual Conference Continuing Education FAQs
Do I need to pay anything to retrieve my certificates?
There are no additional fees associated with receiving your Continuing Education Certificate.
What organizations will accept continuing education credits from AATA?
AATA is an approved provider of continuing education accepted by the Art Therapy Credentials Board (ATCB), the National Board for Certified Counselors (NBCC) and New York State LCATs (NYLCAT). Please refer to the session descriptions and titles that identify which type of continuing education is offered. Sessions are marked with the following codes: ATCB, NBCC and NY LCAT. Sessions with no CE identification codes are not eligible. Sessions that you complete in the AATA on-demand platform, are also eligible for continuing education.
It is each attendee's responsibility to determine if their licensing/credentialing body will accept continuing education earned at the AATA Conference.
How many credits can I earn from each conference session?
Continuing Education is awarded for "contact hours." All sessions for the AATA Virtual Conference which provide continuing education are equal to one (1) Unit of Continuing Education.

What sessions will I have access to on-demand as part of my conference registration?
You will be able to access any sessions that happened on the same day you were registered for that you have not already attended live. For example, if you registered for all conference days, you will have access to all the conference sessions. If you registered for Day One of conference, you will only be able to access sessions from Day One.
For how long will I be able to access the sessions on-demand?
The on-demand sessions from the 2021 Annual Conference will be available to you free of additional charge through December 31, 2022 with your conference registration. You will still be able to retrieve your certificate after that date if you completed the course before December 31, 2022.
| Access Date | Quiz Result | Score | Actions |
| --- | --- | --- | --- |
Need Assistance?
For general information about AATA's online continuing education site and the online courses, review our FAQs page. If you are having trouble logging in, you can reset your password from the login page.
If you have additional questions, please email yelian@arttherapy.org or call Yasmin Elian at 703-548-5861.